Customer
Value
Optimisation
Double your growth by optimising your customer journey
You've built your website. You're posting on social media, you've got a newsletter, you've run a few ads, but it's just not sticking. It seems that your efforts are not working. You've tried all the tools, you are paying for lots of subscriptions, you are working hard every day, but something is just not right. 
You're overwhelmed and exhausted, but just not getting the right type of customer. Where do you go now? How do you get your ideal customers? Where are they hiding?
The first step we'll take together is to understand your customer value journey.
The customer value journey is the path your customers take to find out about you and your services, follow you, buy from you, and buy again.
I will work with you to review your current sales and marketing activities, and understand how you get and retain customers.
I will perform a full audit of your customer value journey and every interaction your prospects and customers have with your company – from when they first find and research you, to their first purchase and beyond.
We'll then map out an optimised path and activities to take your customer through the eight stages of the Customer Value Journey.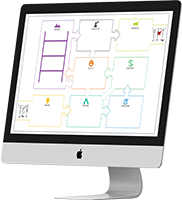 The Customer Value Optimisation package consists of:
An initial fact finding consultation by video call, to find out about you, your business and your specific issues
A 2 hour workshop, where we will meet through video conferencing to:

walk through the Customer Value Journey Audit in your business
run through the 73 point checklist to highlight areas for attention
map out a strategic Customer Value Journey for your business

A Customer Value Journey report detailing the findings, a strategic Customer Value Journey mapped out specifically for your business, and identified quick wins for your business to implement right away
A follow up video conference call to discuss the report and next steps.